Finished
Exhibition curated by Mark Teh + YCAM
The Breathing of Maps
Guest Curator Mark Teh Artist / Researcher Irwan Ahmett & Tita Salina,Carlos Celdran,chi too,Farish A. Noor,Janet Pillai,Vandy Rattana,Okui Lala,Ho Rui An,Masashi Kohara,Shiga Lieko + Shimizu Chinatsu + Nagasaki Yoshitomo,Akira TAKAYAMA,Kaori Nishio,Yasuko Furuichi,yang02,center for remembering 3.11 (sendai mediatheque)
Joining artists from Asia to unravel Japan afresh!
Yamaguchi Center for Arts and Media [YCAM] and The Japan Foundation Asia Center will present "The Breathing of Maps," an exhibition and series of events developed in collaboration with Malaysia-based director and researcher Mark Teh as a co-curator.
As a symbolic product of the modernization process, maps reveal the dramatic changes in national sovereignty, culture, economics, and ways of living. Tracing the complex processes by which a bordered 'Siam' came into being between 1850 and 1910 - a period overlapping with Japan's Meiji Restoration - Thai historian Thongchai Winichakul has shown how encounters with Western map-making were instrumental in the formation of modern nation- states in Southeast Asia. However, premodern or earlier maps in the region were identified by their centres and lack of borders. "A map created a nation... its geo-body is born in a map, and nowhere else". Thongchai Winichakul, Siam Mapped (1994).
Treating the geo-bodies of nation-states as dynamic and unstable entities, "The Breathing of Maps" examines social transformations that lie between maps - between different areas, eras and errors. Unfolding over 12 weeks, the exhibition brings together a network of artistic and research practices that chart the shifting intersections of capital, crisis, citizenry and the colonial in their respective locations. The exhibition includes artworks, performances, lectures and workshops which complicate conventional ideas of cartography, propose counter- mapping potentialities, and foreground imaginative mappings and continuities between people, place, and practices.
*This exhibition will be hosted in co-organization with The Japan Foundation Asia Center, and it will be staged as one outcome of the "Condition Report," a co-curatorial project involving curators from Japan and Southeast Asia embarked upon by the Asia Center in 2015.
Events and Exhibition
Accompanying the exhibition will be related lecture performances, video installations and documentary films by artists and scholars from Southeast Asia and Japan based on their own unique research into the history, culture, politics, economics, actual dayto-day lifestyles, and other social phenomena of their respective countries.
Events
Please check the "Events" item at the bottom of this web page.
Screening
Carlos Celdran "Intramuros Performance Tour 'Walk This Way'" (English)
December 17 (Mon), 2018- March 3 (Sun), 2019 *Except Saturdays, Feb10
17:30-18:30(TBA)
Exhitbition
chi too (Artist) "pika-boo"
Vandy Rattana (Artist) "MONOLOGUE"
Ho Rui An (Artist) "Asia the Unmiraculous"
yang02 "Urbanized Typeface"
from the exhibiton "Record and Recalling - Walking on the house of image" by the center for remembering 3.11 (sendai mediatheque)
Works by Komori Haruka + Seo Natsumi / Suzuo Keita / Fujii Hikaru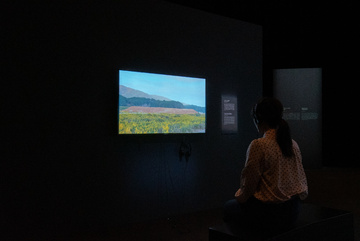 under the wave, on the ground
Haruka KOMORI+Natsumi SEO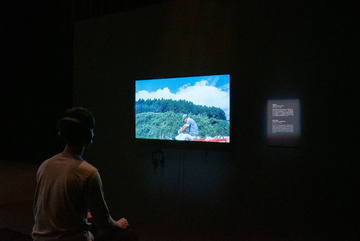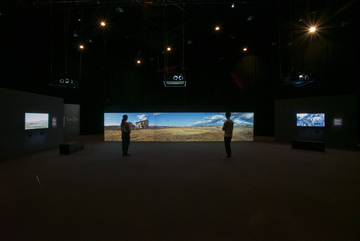 Record of Coastal Landscape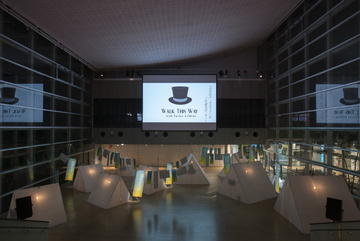 Intramuros Performance Tour: Walk This Way
Guest Curator
Artist / Researcher
Times and Dates (JST)

Saturday, December 15, 2018 — Sunday, March 3, 2019

10:00 — 20:00

イベント休止日

Tuesdays (The following day if Tuesday is a public holiday)
winter holiday season (December 29 — January 3)

Venue
Related Events
12 events
Admission
Free
Press Releases
Credit

Organized by Yamaguchi City, Yamaguchi City Foundation for Cultural Promotion, The Japan Foundation Asia Center
In association with Yamaguchi City Board of Education
In cooperation with the center for remembering 3.11 (sendai mediatheque)
Supported by the Agency for Cultural Affairs Government of Japan in the fiscal 2018 Co-developed with YCAM InterLab
Produced by Yamaguchi Center for Arts and Media [YCAM]