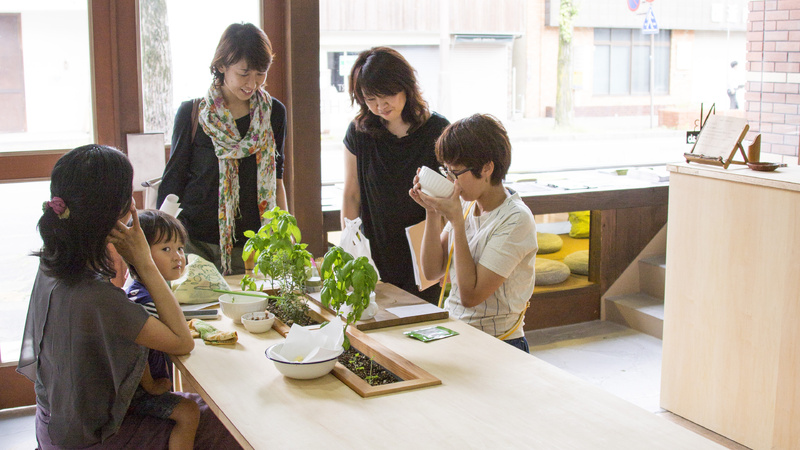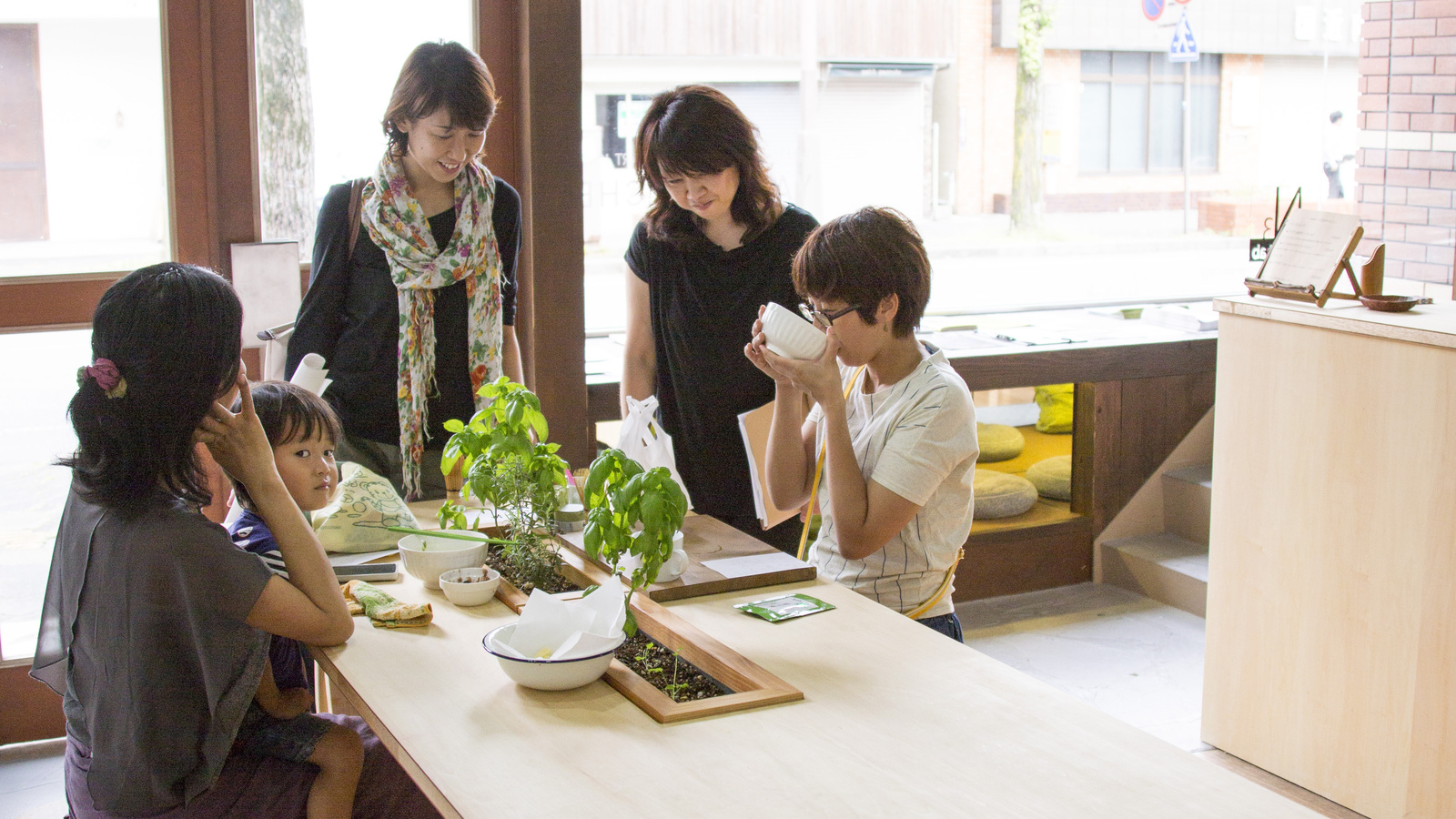 The "kitchen" as a communication tool:
YAMA KITCHEN reopens!
This "social media kitchen" aims to function as a communication hub, and stimulate the exchange of local information through the medium of "food".
YAMA KITCHEN was launched by a team around Taeko Tsuda, whose activities focus on food and culture, simultaneously at YCAM and in the central shopping district of Yamaguchi City in 2014. For four months between 2014 and 2015, resident artists at YCAM became shop managers for one day each, and their chats with numerous customers during their work at the kitchen were opportunities for exchanging creative ideas revolving around the local art, culture and industry of Yamaguchi.
For a limited period of time, the YAMA KITCHEN now reopens inside YCAM. While providing a shared kitchen space that visitors from the general public are free to use, the program offers food-related workshops, lectures and other events, with staff members and guests staying at YCAM running the kitchen in alternate shifts.
Main features
Shared kitchen
Visitors who bring their own food/ingredients are free to use a shared kitchen that is fully equipped with cooking tools and seasonings.
Usage fee
300 JPY/person
Provided tools
Pots, frying pans, electric hot plate, mixer, toaster oven
Provided seasonings
Sugar, salt, sake, soy sauce, mirin (sweet cooking rice wine), kelp, dried sardines, sauces, tomato ketchup, spices
Drip coffee workshop
Participants in this workshop make hand-dripped coffee.
Admission
300 JPY/person
Beverage sales
Beverages can be purchased at the venue.
Beverages and prices
Butter Milk Coffee 200 JPY
Mineral Water 200 JPY
Japanese Tea 300 JPY
Beer 500 JPY
Wine (glass) 500 JPY
Japanese Sake 500 JPY
Lunch box sales
Every Sunday, members of the Yamaguchi-based "Kurukuru-ichi" (Nanten, Sarusuberi and Manamana) sell a weekly changing type of lunch box.
(Reservations are not required but recommended, as the number of available boxes will be limited.)
Schedule
January 17: sarusuberi
January 24: manamana
January 31: nanten
February 7: manamana
February 14: sarusuberi
February 28: nanten
March 6: manamana
March 13: sarusuberi
March 27: nanten
Reservation
Please make your reservation by email (yama-kitchen@ycam.jp) or directly at the YAMA KITCHEN counter, including the following information:- Date- Name- Phone number or email address- Number of items you wish to order
| | |
| --- | --- |
| Times and Dates (JST) | Saturday, January 9 — Sunday, March 27, 2016 |
| イベント休止日 | Tuesdays (The following day if Tuesday is a public holiday) |
| Venue | |
| Related Events | 8 events |
| Admission | Free |