"Perception Engineering" Kickoff Event—Connecting Bodies
Speakers: Shunichi KASAHARA, Shinichiro KUMAGAYA, Osamu JAREO, Asa ITO, Takayuki ITO(YCAM InterLab), Richi OWAKI(YCAM InterLab), Keina KONNO(YCAM InterLab)
Info
Times and Dates
Saturday, January 21, 2017
This event has finished.
13:00〜20:00
Venue
Admission
Free (Application required)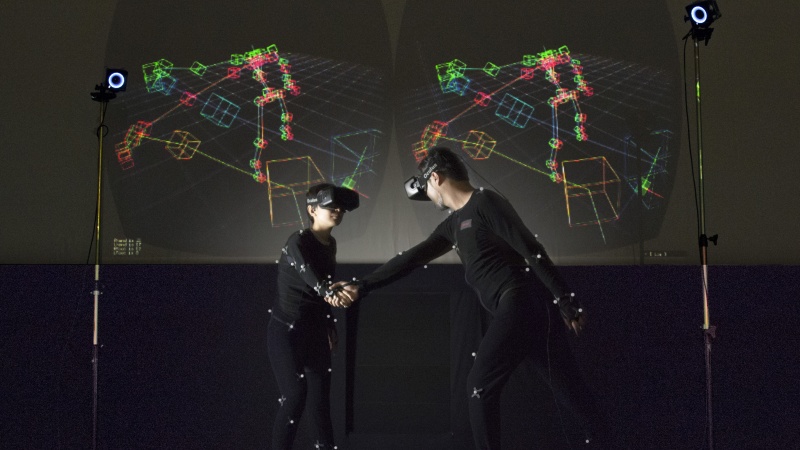 Technology to generate new dance develops into a project that stimulates the senses
A day to learn the latest research developments with your body!

With this event, YCAM kicks off its new "Perception Engineering" project that developed from "Reactor for Awareness in Motion (RAM)," a research and development project launched with the aim to utilize technology for dance creation.
Taking the results that the RAM project has yielded so far, and expanding them beyond the realm of dance, Perception Engineering focuses on research with various experts on the shifts that moving images, sound and vibration we experience as interactive responses to our body's movements stimulate in the way we perceive, move, and communicate with others.
In this kick-off event, researchers that collaborated on the project will illustrate the process of their research, while some of the results will be presented in an installation and a workshop.
Timetable
13:00–13:30|Presentation: From RAM to Perception Engineering
13:30–15:00|Presentation: Visually generated Superception and Movement
YCAM × Shunichi Kasahara
Superception, a research project led by Shunichi Kasahara, a Sony Computer Science Laboratories researcher, who is exploring a way to connect or alternate our individual perceptions and senses using technology. It was YCAM'S aim to verify the effect of the RAM system scientifically through this collaboration. Using the RAM system, one's movement can be modulated temporally and spatially in a virtual reality space. This research focuses on how these modulations alter one's sense of physicality, such as the lightness or heaviness of the body. The presentation includes an interactive installation.
15:00–15:20|Break
15:20–16:50|Presentation: Visualization of Sense of Distance
YCAM × Shinichiro Kumagaya
Shinichiro Kumagaya is a researcher with cerebral palsy who advocates for sufferers' first-person study. When several people converse, it is said that each speaker comes to understand their places through adjusting their personal space. It is also believed people with autistic spectrum disorders have different linguistic aspects from neurotypicals in communication such as inter-personal distance or rhythm of movement. However, studies haven't been able to clarify much about how it is actually different in everyday life. In this project, with "personal space" in mind, we will look into these differences, the causes for interpersonal misunderstanding and the possibility of a new style of communication. RAM allows us to visualize and make personal space tangible. The project explores what we might learn from this.
16:50–19:00|Rediscovering Personal Space
YCAM × Osamu Jareo
19:00–20:00|Networking Reception
How to Apply
To apply, please provide the following information either in an email sent to the email address below or on a piece of paper delivered directly to the ticket information desk on the first floor of the YCAM building.
Names of the events you wish to attend (Presentation / Workshop / Networking Reception)
Your address and Name
Phone number, email, etc., at which you can be contacted
Your interest regarding to this event etc.