SFPC Summer 2019 in Yamaguchi
Lecturer Taeyoon CHOI Lauren GARDNER Melanie HOFF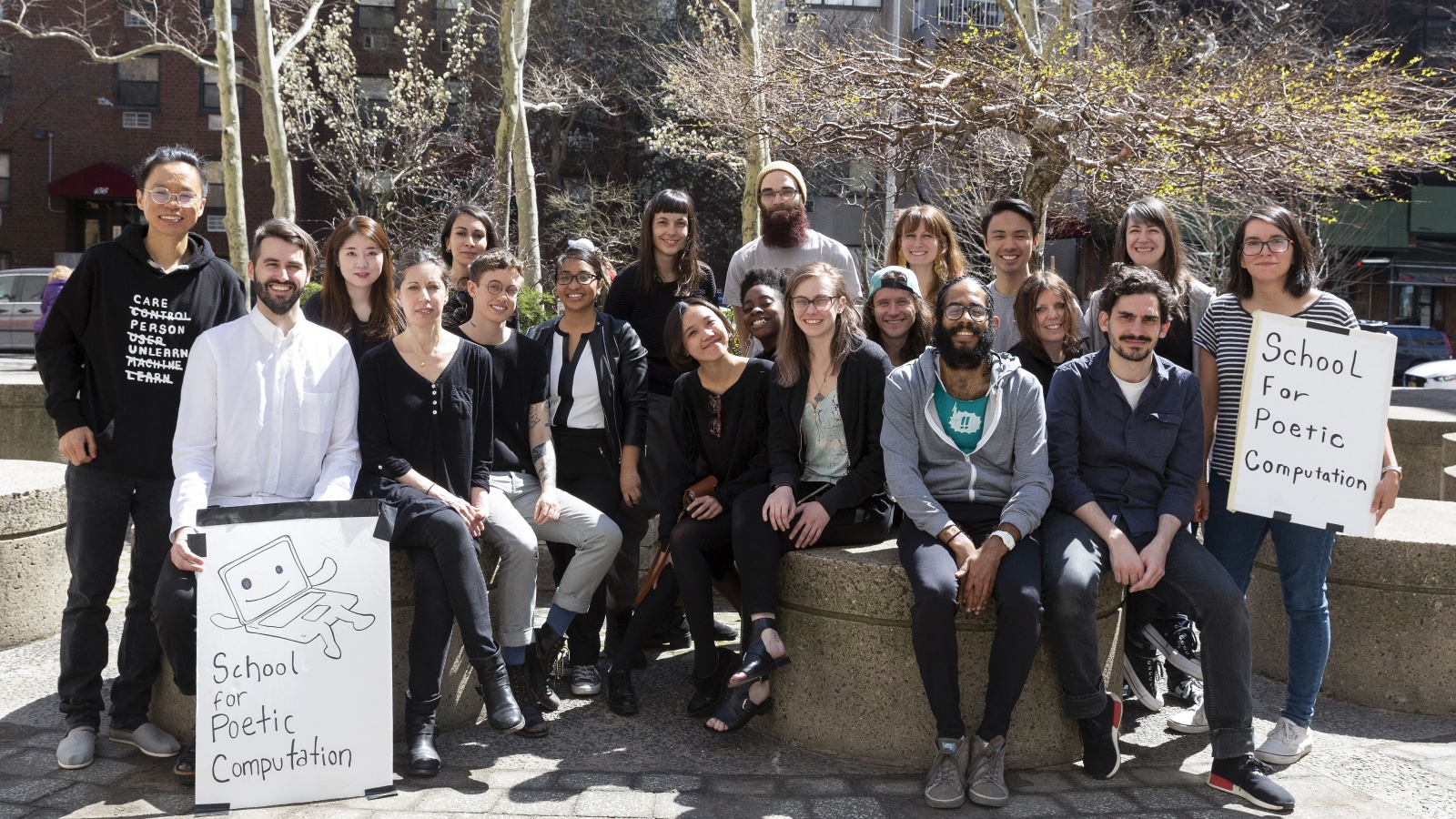 Times and Dates
Venue
Participation Fee

A fee will be charged

Application required
Poetic Computation?
School for Poetic Computation hosts first workshop outside the USA!

Implemented in this intensive workshop is the curriculum of the School for Poetic Computation (SFPC), a school on New York that teaches creative work using computers.
In SFPC's 10-week curriculum, which has drawn attention from creators and educational institutions around the world, students familiarize with various forms of artistic expression based on "computation" as a fundamental principle of computer technology.Held for the first time outside the USA, this workshop couples a unique YCAM version of the SFPC curriculum with contents of educational programs that have been developed at YCAM in the past. The resulting 1-week program combines a discussion on "possible relationships between creative work and computers" with practical manual work.
Exploring further possibilities between creating and computing
SFPC is a school dedicated to art made with computers, which artists Zachary Lieberman, Taeyoon Choi, Amit Pitaru and Jen Lowe launched in New York back in 2013. The school most prominent feature is that it doesn't simply teach "how to work with computers," but the focus is on "how to turn a computer into a tool for one's own creative/aesthetic endeavors." In addition to technical know-how, the school places importance on the understanding of social backgrounds behind computer technology, and on the exploration of possible future ways of usage.
Within SFPC's 10-week curriculum, the "Poetics And Politics of Computation" class for example focuses on cultural backgrounds of expressive/creative work using computers, along with ethical/social issues this involves. The curriculum further includes such concepts as calculation and electronics that are essential for working with computers, as well as various other topics revolving around creative methods of using them. This original curriculum has been attracting the attention of creators and educational institutions worldwide, and up to this day, more than 200 students (including about ten from Japan) have graduated from the school.
In an age when "computational thinking" is becoming increasingly important for defining problems and working out appropriate solutions, this 1-week intensive workshop combining elements from the SFPC curriculum and YCAM's own educational programs aims to propose and spread "a new form of learning."
Lecturer


Times and Dates

Wednesday, September 4 — Wednesday, 11, 2019

* Throughout the 7 days

Venue
Studio B
Studio D

Related Events
2 events
Participation Fee
A fee will be charged

Application required

Eligible person

High school students and above with basic English conversation skills and an interest in creative work with computers.

Capacity

20 persons

Application period
— Tuesday, July 9, 2019
Remarks

Participation fee may be paid on-site by cash or credit card
Participation fee include costs of materials used in the workshop, but exclude food and lodging.
For accommodation near YCAM please refer to "Accommodations around YCAM."
In accordance with SFPC's policies, this event prioritizes a scholarship support for female, LGBTQ, disabled, and financially challenged persons. For more information please contact YCAM.
Experience with programing is not necessary.
Participants should be eager to share knowledge and cooperate with other participants, SFPC instructors and YCAM staff members.
Minors under the age 18 may only participate with the consent of a parent or guardian.
Applicants selected for participation will be announced on July 26.