YCAM Sports Hackathon 2018
Tsubasa NISHI, Hiroshi INUKAI, Takaaki YONEJI, Nariaki IWATANI, Yuichi KISHINO, contact Gonzo, So KANNO
Info
Times and Dates
Friday, May 4 — Sunday, 6, 2018
This event has finished.
Friday, May 4
13:00〜19:00
Saturday, May 5
10:00〜19:00
Sunday, May 6
10:00〜19:00
* Throughout the 3 days
Venue
Admission (Application required)
3000 JPY
Accommodation package
All15000 JPY
Includes lodgment in shared rooms (separated by gender), breakfast.
Eligible person
junior high school students and above
[Minors may only participate with the consent of a parent or guardian]
Remarks
Things to bring
Comfortable clothes (suitable for exercise)
Sports shoes
Towel(s)
Drink(s)
Laptop computer
Accommodation
Accommodations in Yuda Onsen Area
Application period
Thursday, March 1 — Sunday, April 8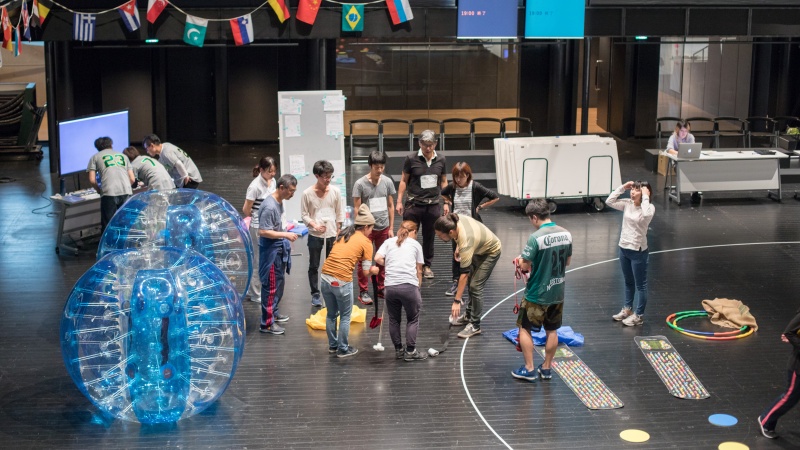 "Developlaying" hackers at the sports meeting

The aim of this 3-day sports creation camp is to realize ideas for new types of sports utilizing media technology.
Employing a basic method we refer to as "developlay" – a chain of repeated "developing" and "playing" – the program starts with two days dedicated to the development of events for a sports meeting, which are eventually implemented in an actual sports meeting on day three. In addition to familiar sports-related tools, participants use also original YCAM produced hi-tech tools. Also appearing this time are three specially invited artists that work together on the development of new sports.