Yamaguchi Future Sports Day
Sports Time Machine
Artists: Hiroshi INUKAI, Ryoko ANDO
Info
Times and Dates
Sunday, December 13 — Sunday, 20, 2015
This event has finished.
Sunday, December 13
10:00〜18:00
Saturday, December 19
10:00〜18:00
Sunday, December 20
10:00〜18:00
Venue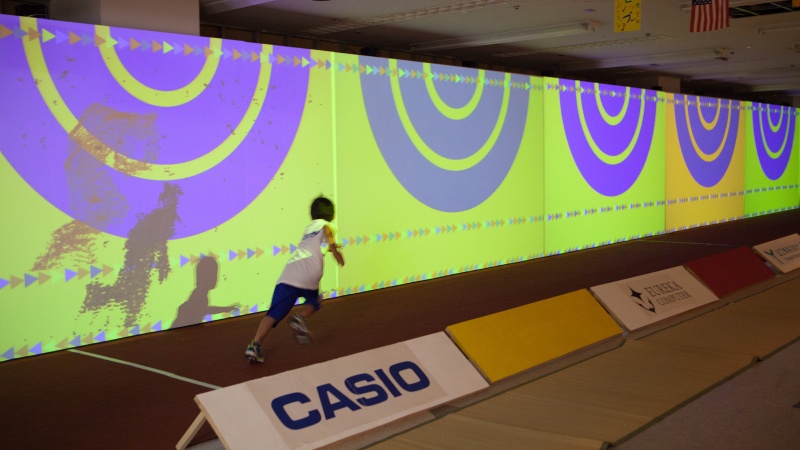 Hail the return of the Sports Time Machine,
the device that produced smiling faces in the city!

One of YCAM visitors' favorites during the 10th Anniversary Program in 2013, Hiroshi Inukai and Ryoko Ando's "Sports Time Machine" is on display once again.
The "Sports Time Machine" is a mechanism that enables visitors to actually "race" against prerecorded video footage projected onto a screen. Originally made for the "LIFE by MEDIA" competition as part of the YCAM 10th Anniversary Program, in 2013 the device was installed in the central Yamaguchi City shopping district, and enjoyed great popularity with more than 3,000 challengers from the general public in the period of approximately four months. The work further received an Excellence Award in the Entertainment division at the Japan Media Arts Festival in the same year, and has been presented at locations all across Japan.
For the "Yamaguchi Future Sports Festival", the Sports Time Machine is now remobilized for a limited time of three days only. Take this opportunity to race against friends, family members, animals, or your own personal record from 2013.