YCAM performance lounge #7
Carry-in-Project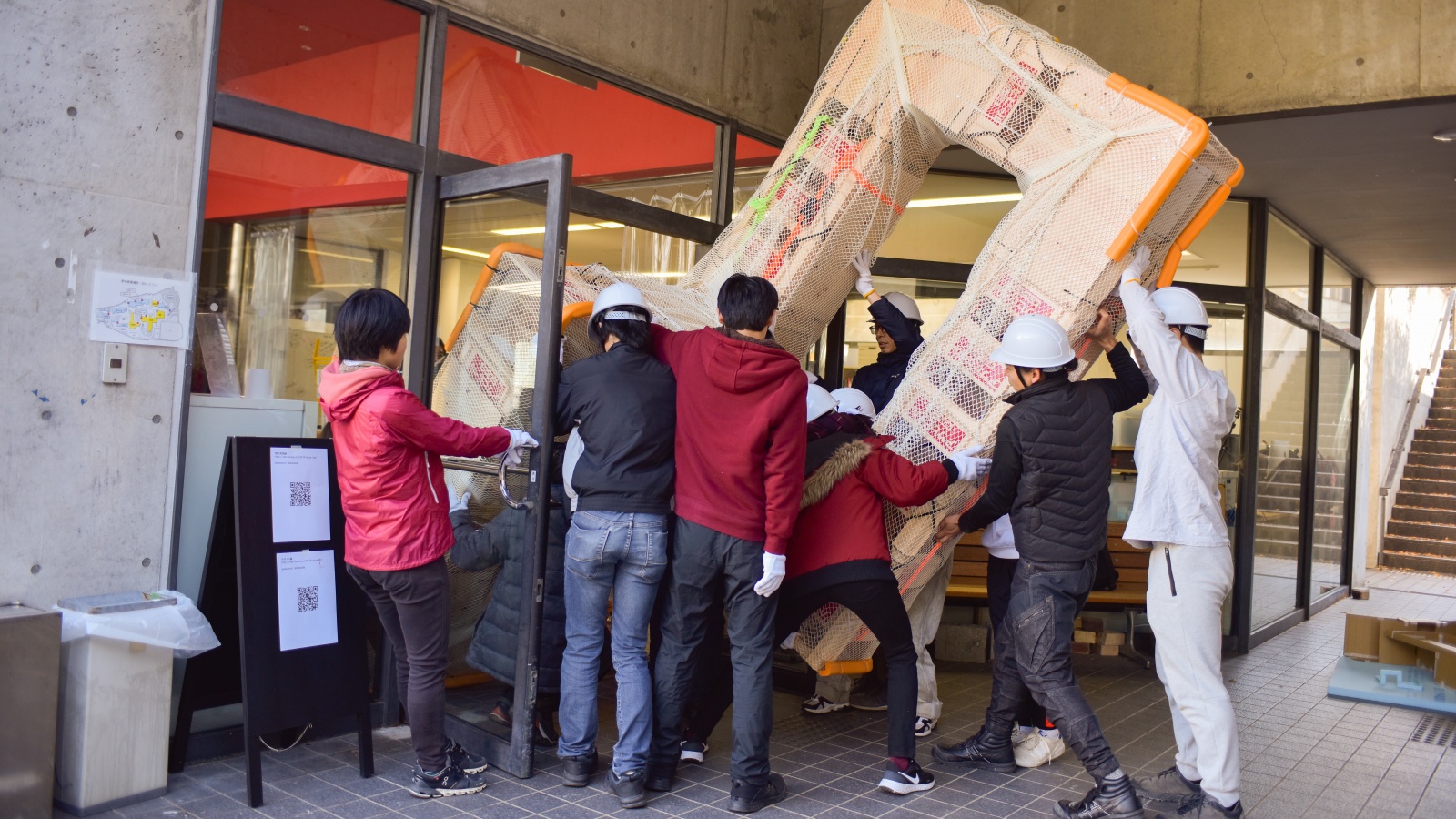 YCAM gets intruded by a huge object as a notorious theater project lands in Yamaguchi!

Volume 7 in the "YCAM performance lounge" series, aimed to communicate the appeal of recently emerging new forms of body expression, is dedicated to the performance group AKUMANOSHIRUSHI and one of their major theater projects, known as the "Carry-in-Project."
As part of this project that reflects the group's unique approach, AKUMANOSHIRUSHI design and build large objects that barely fit into the respective venue in terms of size and shape, and present the act of cramming those objects into the building as one form of "performance."
This first ever installment of the project in Yamaguchi is preceded by a workshop at which participants create a number of objects, one of which will then be chosen to be actually carried into the venue. The object will be brought into the Foyer from the Central Park in front of the YCAM building.
Something that seems too big for the venue
When we say about a thing that it "barely fits into a place," this means that it doesn't fit without some extra effort. Accompanied by a peculiar sense of uncertainty that almost necessarily arises in this particular situation, the attempt to carry that object into a space triggers feelings of chaos and tension between those carrying and those watching, but it creates at once also a sense of unity, which ultimately turns into a strange sense of fulfillment as soon as the mission is accomplished. It is the interference of people in the relationship between architectural space and giant object, that activates human emotions. This project, which considers this very process as a form of "performance," has been noted for the possibility to implement it at any kind of venue, and also for its flexibility in terms of contents, considering that the venue and its direct environment significantly affect the performance as a whole. So far, it has been shown at more than twenty locations in Japan and abroad. After the former leader, Noriyuki Kiguchi passed away in 2017, copyrights related to this project were abandoned, and now that anyone is free to present the project in any form, the project has begun to evolve into an entirely new direction.
Against this backdrop, the "Carry-in-Project in Yamaguchi Nakazono-cho" is realized with support from AKUMANOSHIRUSHI, and with YCAM independently taking charge of everything from designing and constructing the giant object to installing it at the venue. The object will be made using the know-how and networks that have been built at YCAM up to now, and carried from the adjacent Central Park into the Foyer on the ground floor of the YCAM building.
The performance will be followed by "The Exhibition of Carry-in-Project in Yamaguchi Nakazono-cho." On display will be the actual object that was installed in the Foyer, along with results of various experiments that were carried out prior to the installation.
| | |
| --- | --- |
| Times and Dates (JST) | Saturday, July 24, 2021 |
| Meeting Place | |
| Related Events | 4 events |
| Participation Fee | Free |
| Nursery Service | Inquire with our staff for childcare services. |