sound tectonics #24
MYSTIC RHYTHM
Performer Senyawa, Kakushin NISHIHARA
Finished
New forms of music born at the crossroads of tradition and innovation

Volume 24 in the "sound tectonics" series introducing cutting-edge sound art and music from Japan and abroad at the Yamaguchi Center for Arts and Media [YCAM], is a music event that will be presented online under the title "MYSTIC RHYTHM."
In their respective performances, Senyawa and Kakushin Nishihara aim to explore new creative possibilities combining state-of-the-art audio technology and traditional sounds. Senyawa is a duo of artists from Indonesia who have been creating experimental music inspired by musical and folkloric tradition, while Nishihara is known for her unique style juxtaposing the traditional sound of the Satsuma biwa with experimental noise music. Their concert is part of the Ars Electronica Festival, one of the world's largest media art events that has been annually held in Linz, Austria, with the involvement of YCAM.Look forward to a unique experience beyond the boundaries of space and time, brought to you wherever you are by a "cultural mixture" of musicians.
Performer
Yogyakarta's Senyawa embodies the aural elements of traditional Indonesian music while exploring the framework of experimental music practice, pushing the boundaries of both traditions. Senyawa ...
View More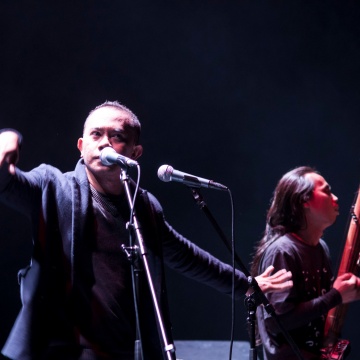 Kakushin NISHIHARA
Satsuma-Biwa (Japanese traditional string instrument) Player / Collage Artist
Kakushin Nishihara was born in Tokyo and started her music career from making a band and learning various musical instruments. At one time, she got amazed by a Satsuma-Biwa master, Kinshi Tsuruta, and ...
View More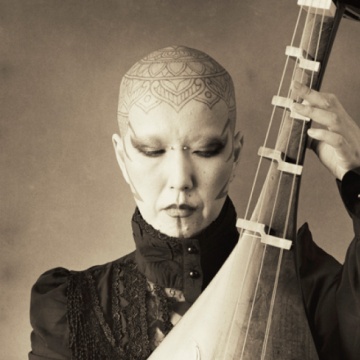 Tickets are available on
Fee
Advanced tickets
Early bird (Until August 22)

1,500JPY
General

1,800JPY
"any" members

1,200JPY
Under 25

1,000JPY
Remarks
Only advance tickets
International purchase using credit card only
Times and Dates (JST)

Wednesday, September 9, 2020

Venue

Internet (Special Website)



Ticket Information
A fee will be charged

Ticket required

Tickets are available on
Saturday, August 1, 2020

Remarks

Recommended environment for watching

Please ensure that there are no malfunctions or damage on your device or software and that you can view the show on the recommended environment before purchasing.

Smartphone & Tablet

iOS 11.0 or later (the latest version of Safari)
iPadOS 13 (the latest version of Safari)
Android OS 5.0 or later (the latest version of Google Chrome)

Computer

Windows 8.1 (the latest version of Google Chrome, Firefox)
Windows 10 (the latest version of Google Chrome, Safari, MS Edge, Firefox)
MacOS 10.14 or higher (the latest version of Google Chrome, Safari, MS Edge, or Firefox)

Ticketing and Streaming Link

You will receive an email with the URL to view the program on the day of the performance.
Please make sure that you can receive an email from YCAM (@ycam.jp) in advance. (Please also check your spam/junk/thrash mail folder)
You can only view on one device per ticket (one account, one view).
Tickets must not be transferred or resold to a third party. The person in charge must purchase tickets.
Any problems caused by the transferring or resale of viewing privileges must be resolved between the parties involved.

Precaution

The organizer will not be responsible for any problems that may occur due to the transferring or resale of privileges.
This streaming event is a paid distribution. The organizer reserves all rights. Unauthorized reproduction or sharing of this video to video sites may result in legal liability.
This streaming event must not be filmed or recorded using smartphones or digital cameras. If such an act is discovered and the organizer deems it necessary, the organizer will ask for the cooperation of investigative authorities, including reporting to the police.
Once purchased, no refunds will be made for any reason other than cancellation of the performance.
Performers may be canceled or changed due to circumstances. In the cases of cancellation or change of performers, or termination of the streaming in the middle of the show, no refund of viewing fees will be given.
Please note that the performance may be temporarily interrupted due to unexpected internet connection problems. Please make sure you have a suitable communication environment for watching the video before watching it. Please be sure to prepare an appropriate communication environment for watching the video before you view it.
We are not responsible for any viewing problems caused by your Internet environment.
The performance is a live streaming service only, not an archiving service. If you watch from the middle of a video, it will be streamed from that point on, and cannot be rewound and played back.

Press Releases
Credit

Organized by Yamaguchi City, Yamaguchi City Foundation for Cultural Promotion
In association with Yamaguchi City Board of Education
Supported by the Agency for Cultural Affairs Government of Japan in the fiscal 2020
Technical Support by YCAM InterLab
Produced by Yamaguchi Center for Arts and Media [YCAM]