Finished
contact Gonzo + YCAM Bio Research
wow, see you in the next life. / studies on uncertain information from the future and the past
Where did the body come from, and where is it heading?
Unveiled in this exhibition is a new installation piece created in collaboration between contact Gonzo and the YCAM Bio Research team.
contact Gonzo is an artist group that has been exploring ways of physical expression through mainly improvised performances that involve fierce body collisions. Their works bridging the realms of contemporary art and performing arts have been shown at art museums and theaters across Japan and around the world.Inspired by the question, "Where did the body come from, and where is it heading?" in this exhibition they create and unveil a new installation based on knowledge in the field of biotechnology gained through YCAM's recent research activities, and by an approach that focuses on genetic heredity through DNA, and cultural tradition by way of stories and customs.Revolving around the human body as a central element, the exhibition is an occasion that inspires the visitor to reflect on the succession of experiences between generations from the past and into the future, and that suggests new perspectives for reviewing one's own life in an age when the concept of "life" itself is gradually being redefined.
A new installation that examines aspects of "physical succession" from genetic and cultural points of view
The piece that is unveiled in this exhibition with the same title focuses on possible ways of passing on the physical qualities that we have acquired in life to future generations.
Based on the latest trends in heredity-related biotechnological research – including also the local folklore of Yamaguchi –conducted in the process of creating this work, in combination with their own unique methods, contact Gonzo have developed special devices for accumulating physical experiences in one's own body. The results were incorporated into an experiential installation piece that is exhibited in YCAM's Studio A, which is normally used as a theater. Visitors are encouraged to try and use these devices at the venue, and thereby deepen their thoughts on the succession of experiences from their own bodies as starting points.
The exhibition aims to create opportunities for visitors to review their own "lives" from within their respective relationships to past and future generations.
At this exhibition, the rain is going to start in the venue at the following times.
11:00
12:00
13:00
14:00
15:00
16:00
17:00
18:00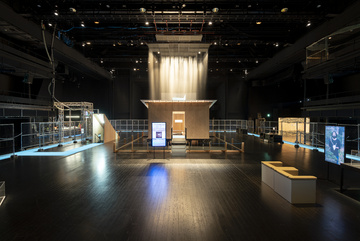 wow, see you in the next life. / studies on uncertain information from the future and the past
contact Gonzo+YCAM Bio Research
World Premiere
Times and Dates (JST)

Saturday, October 12, 2019 — Sunday, January 19, 2020

10:00 — 19:00

イベント休止日

Tuesdays (The following day if Tuesday is a public holiday)
winter holiday season (December 29 — January 3)

Venue
Related Cinema Programs
1 programs
Related Events
4 events
Admission
Free