Finished
Talk Session #2/Event related to Understanding Living Culture
Artistic investigations of living systems
Speakers Sandra SAJOVIC
Guest speaker in this talk event held in connection with "YCAM Open Lab 2019: Understanding Living Culture" is Sandra Sajovic, curator at the Kapelica Gallery in Slovenia.
Kapelica Gallery was conceived as an art space for research, development and presentation of cutting-edge art made using technology. The curatorial focus in recent years has been on works by artists who deal with other organisms (bacteria, funghi, plants, animals), and explore the possibilities of mixing such organisms with humans and machines. In response to the growing necessity of interdisciplinary collaboration, the gallery added new facilities in the form of the "BioTehna" and "Vivarium" labs and the "Rampa" hackerspace. In this talk session, Sajovic showcases various programs based on the interconnection between the gallery and laboratories, encouraging the exchange of ideas, knowledge and skills between artists and scientists.
Kapelica Gallery
Kapelica Gallery was established in 1995 in Ljubljana, Slovenia as an art space with a focus on contemporary investigative art that addresses the phenomena of contemporaneity. Its programme consists of spatial installations, performances, sound research and lectures, in which scientific production and technological applications, bio-politics, and natural and urban phenomena are discussed. The conceptual frame of the programme is developed as a response to the paradigmatic changes in society, thus it is constructed from art activities that reflect the multitudes of contemporaneity and announce the possible future scenarios.
The programme of Kapelica Gallery is complemented with the activities in the two laboratories – a wet-lab BioTehna and a hacker space Rampa – that altogether form Kersnikova Institute, a non-profit production platform which encourages, facilitates and showcases contemporary investigative artistic practices and develops new learning approaches. With Kapelica Gallery, BioTehna, a laboratory for artistic investigation of living systems and Rampa, where relations between society, technology and art are being reconsidered, the Kersnikova Institute serves on one hand as a space for trans-disciplinary interactions, in which the most demanding art projects can be developed, and on the other as an experimental environment, where youth and general audience meet the most inspiring artists, bold researchers and techno freaks, who challenge our ideas of the world in which we live in.
Speakers
Sandra Sajovic (SI) graduated at the Department of Art History at the Faculty of Arts, University of Ljubljana and has been working as a curator and lead producer in Kapelica Gallery, a space for cont ...
View More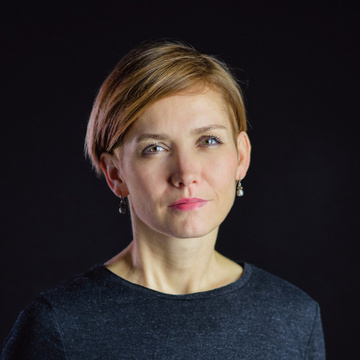 Free

Application required
Times and Dates (JST)

Saturday, November 16, 2019

Venue
Related Events
1 events
Participation Fee
Free

Application required