sound tectonics #16
ELECTRONIC HIGH EDGE
Performer: Morton SUBOTNICK, Lillevan, NONOTAK
Info
Times and Dates
Saturday, September 12, 2015
This event has finished.
19:00 start
Venue
Admission(Free seating)
Advanced tickets

General

2000 JPY

"any" members

1500 JPY

Under 25

1300 JPY

Special discounts

1500 JPY
Tickets at the door

All

2500 JPY
See here for information on how to purchase tickets.
Tickets are available on
Sat., Aug. 1

general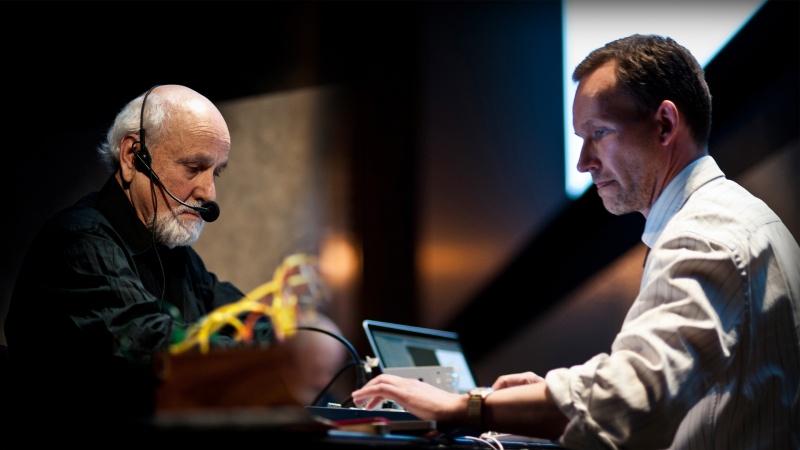 A legendary figure in electronic music meets the new darlings of media art
This is volume 16 of the "sound tectonics" live concert series introducing cutting-edge sound art by electronic musicians and other creators from Japan and abroad. Titled "ELECTRONICS HIGH EDGE", this event features live performances by two specially invited foreign artists.
Performers are Morton Subotnick, a pioneer of electronic music and reputed founding father of the techno movement who has been utilizing synthesizers in his musical performances since the early 1960s. For his show at YCAM, at once his long-awaited first ever concert in Japan, Subotnick is joined by video artist Lillevan.
Also appearing will be NONOTAK, a duo of Paris-based illustrator NOEMI SCHIPFER and sound artist TAKAMI NAKAMOTO, who quickly became the new darlings in the realm of media art after debuting in 2011.
Please look forward to a special live set at YCAM, a venue that boasts one of the best acoustic environments in Japan.