Info
Times and Dates
Saturday, May 21
14:00–16:00
Sunday, May 22
14:00–16:00
Saturday, May 28
14:00–16:00
Sunday, May 29
14:00–16:00
Saturday, June 4
14:00–16:00
Sunday, June 5
14:00–16:00
Saturday, June 25
14:00–16:00
Sunday, June 26
14:00–16:00

This event has finished.
Venue
Admission
Free (Application required)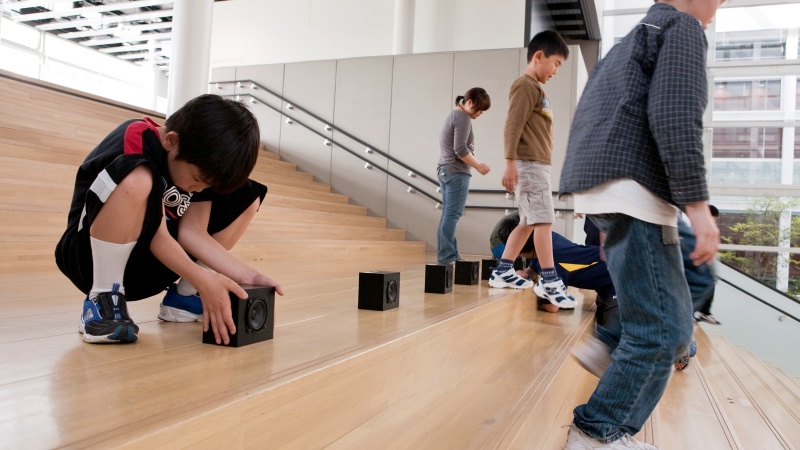 What does "listening" mean?
New forms of composing in/with space.

Participants in this workshop learn about "sound" and "space" by reconsidering the meaning of "listening to sounds." Through exercises such as walking blindfolded they understand the nature of the human sense of hearing, based on which the participants try "composing with sound and space" using wireless speakers developed at YCAM.
Through this approach that involves arranging sounds in a space – as opposed to the conventional method of composing by arranging sounds on a timeline – participants develop an idea of how sound travels in space and eventually reaches the ear, while examining the acts of composing and listening to music.
(This event will be in Japanese only.)
How to Apply
To apply, please provide the following information either in an email sent to the email address below or on a piece of paper delivered directly to the ticket information desk on the first floor of the YCAM building.
Names of the events you wish to attend
Date and Time preference
Your address
Names of those attending
Genders of those attending
Ages of those attending
Phone number, email, etc., at which you can be contacted
Email Address
reserve@ycam.jp