sound tectonics #17
border
Info
Times and Dates
Saturday, February 27 — Sunday, 28, 2016
This event has finished.
12:00 start / 12:20 start / 12:40 start
13:00 start / 13:20 start / 13:40 start
15:30 start / 15:50 start
16:10 start / 16:30 start / 16:50 start
17:10 start
19:00 start / 19:20 start / 19:40 start
20:00 start / 20:20 start / 20:40 start
This event has finished.
Venue
Admission
Tickets at the door

All

500 JPY
See here for information on how to purchase tickets.
Tickets are available on
Sat., Jan. 9

general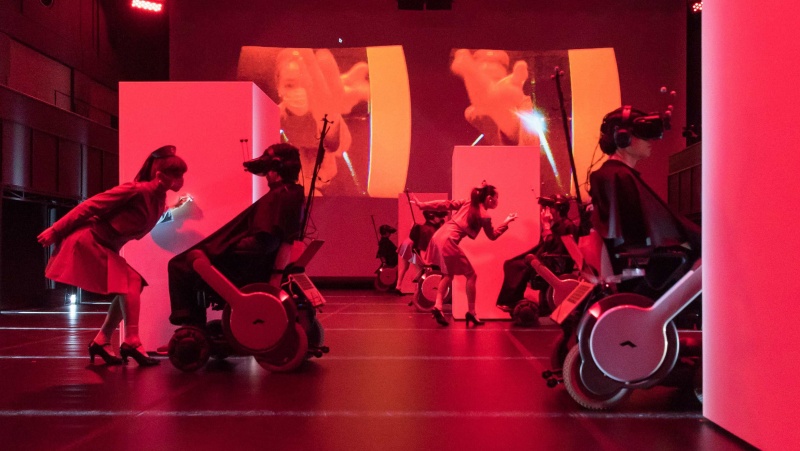 Complete version of "border" unveiled!

The Rhizomatiks Research group led by media artists Daito Manabe and Motoi Ishibashi, and director/choreographer MIKIKO's dance company ELEVENPLAY together present their new collaborative dance performance "border".
The audience for this piece includes on-stage participants limited to ten persons for each performance. Equipped with a head-mounted display, these participants ride a personal mobility device called "WHILL" that moves around on stage. At the device's mercy, each participant experiences from an individual point of view a performance in which real-time movements of dancers mix with those of virtual dancers.
After being introduced in a preview performance at Spiral Hall in December 2015, the piece underwent major updates in terms of system and contents during the artists' residency at YCAM, and is now unveiled at YCAM in its complete version.
WHILL is a product of WHILL, Inc.
In addition to the on-stage experience, the performance may also be enjoyed freely from outside the stage.
Precautions
VR/AR technology
-The performance of this piece incorporates virtual reality (VR) and augmented reality (AR) technologies, and participants wear head-mounted displays. Please purchase your ticket after reading the following related instructions. - Participation is not recommended to pregnant, elderly and visually impaired persons, as well as patients with mental disorders, heart or other serious diseases.
- Please also refrain from participating if you have experienced symptoms related to seizure, fainting or epilepsy in the past. Some participants may experience temporary dizziness, seizure, epileptic cramps or fainting causes by blinking lights.
- On-stage participation is not permitted to children aged 13 or below.
Personal mobility device "WHILL"
On-stage participants of this piece ride the personal mobility device "WHILL". The device was constructed to carry persons of up to 100kg body weight.
Each ticket is valid for one person/ride. (For safety reasons, please do not carry children preschool age or younger during the ride.)